Judgment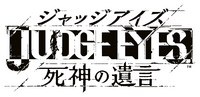 Judgment, also known as Judge Eyes in Japan, is an upcoming game being developed by Ryu Ga Gotoku and published by SEGA. It was released on December 13, 2018 in Japan and June 25th, 2019 worldwide.
Description
The protagonist is Takayuki Yagami, played by Takuya Kimura. He is a former lawyer who used to defend murderers, winning impossible trials that would have otherwise resulted in a conviction. Yet, as one of his clients murders another victim, he loves his will to work as a lawyer. He starts running a detective business in Kamurocho that takes on any case, with many of the residents gradually starting to go to him to solve their problems.
Yagami himself grew up in Kamurocho, and he is attached to the town and its inhabitants. However, one day he is asked to gather evidence on a serial murder case, and he is pulled into the mystery.
Yagami's father was also a lawyer. When he was a young boy, he lived the lonely life of a rebel in Kamurocho, but thanks to the encouragement of many, he then followed the footsteps of his father and became a lawyer himself.
Placed in charge of defending the accused of a murder case, Shinpei Ookubo, he obtains a wonderful victory and Ookubo's acquittal, against the odds of a judiciary system boasting a guilty result rate of 99.9%. Yet, Ookubo murdered a couple just after he was released, stabbing them several times with a kitchen knife.
The brutal murder ruined Yagami's public reputation, as he was accused of misleading legal practice that caused a vicious murderer to be set free. While Ookubo is sentenced to death, Yagami loses everything.
Three years later, Yagami has removed his Lawyer's badge and has become a detective in Kamurocho, living a troubled and violent life, and helping many people with a scarred past. However, a series of murders start to happen in town. Even for Kamurocho, where murders are not uncommon, the modus operandi is particularly brutal, with the eyes of the victims gouged out of their sockets.
Yagami receives a request from a law firm he knew from his former job, and starts to investigate the truth behind the mysterious serial murders.
Screenshots
Videos
External links