Takayuki Yagami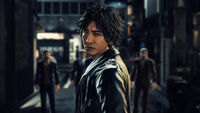 Takayuki Yagami is one of the characters in Project Judge. He is voiced by Takuya Kimura.
Description
The main protagonist of Project JUDGE.
A fiercely idealistic ex-defense lawyer turned private detective. After facing a devastating betrayal by one of his former clients, he became known as a fraud who lets murderers run free, effectively destroying his reputation. Now he's caught up in an enigmatic serial murder case and will need to push his investigative skills to their limit to solve it.
Gallery
See also